Representing Napa & Solano County
720-B Technology Way, Napa, CA 94558, (707) 251-9180
Members must login (upper right) to access newsletters & meetings.

Local 180 is one of the oldest Local Unions in the US and the third oldest in California.

This web site is for our members, traveling members and people interested in joining.

Local 180 follows the IBEW & NECA Substance-Free Workforce Program

See our JATC web site for Apprenticeship information. Additional information is provided from our "100 Year History Book" prepared by Deane Rader.
---
---
Pay Your Dues Online

Instructions to gain access to the member's ISAWeb area for dues payment, web re-sign and book status.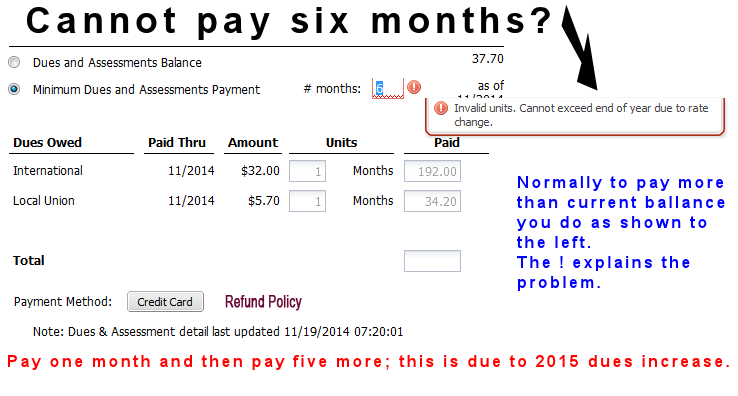 Per the 39th International Convention International Monthly Dues have increased two dollars for 2017 and one dollar per year as follows: 2018 $37, 2019 $38 and 2020 $39. Local Monthly Dues have not increased.
---
Inside Agreement Kaiser Coverage

Information on the change to the Kaiser coverage for active participants under the Inside Agreement.
---
We Follow

on all jobs

The Office Will Be Closed For
Thanksgiving

Nov. 22 & 23, 2018
---
---

NOTICE TO RETIREES RECEIVING A NORMAL OR EARLY RETIREMENT PENSION BENEFIT CONCERNING A TEMPORARY RETURN TO WORK AMENDMENT TO THE PLAN OF BENEFITS FOR THE NEBF
Looking for Residential & Small/Light Commercial Electricians - see flyer
---
International Dues Increase
$2 increase per month starting Jan. 1, 2017
Monthly International dues will be $36. Therefore, total monthly membership dues are now $41.70 for Inside and Residential members and $38.00 for Sound & Communication members. Per the 39th International Convention International Monthly Dues have increased one dollar per year as follows: 2018 $37, 2019 $38 and 2020 $39. Local Monthly Dues have not increased.
---
Re-Sign by email - details
---
Remember - attend Union Meetings on the second Thursday of each month, except December.
---
Working in Local 180
Clearing in information | Dispatch & Referral information | How to Join
Membership is not required to sign the out of work list; come on in.
---
You can follow Local Union 180 on

---
New Local 180
Pocket T-Shirts
With Our New Logo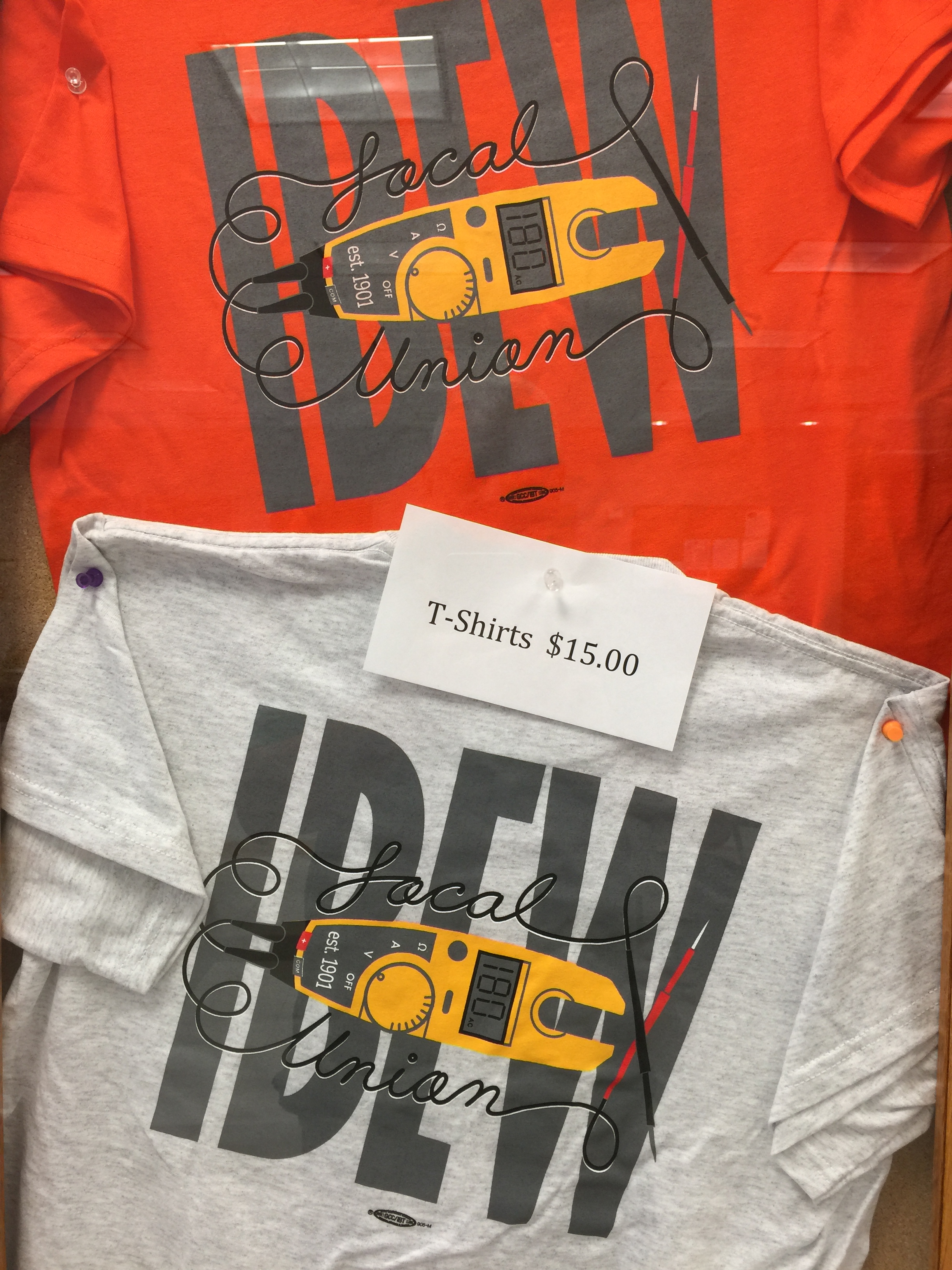 ---
Valero Refinery in Benicia
The following are required when taking any call: BAT-DSOP CARD, No Facial Hair, OSHA10 and NFPA70E, CPR, andTWIC Card. The Locator for Enrollment information from Dept of Homeland Security website. How To Get Your TWIC Card and How to Reset Your PIN.
(in the link search for Benicia, CA).
NEW: "On June 15, 2012 TSA and the U.S. Coast Guard announced a new option for renewing TWIC cards called "extended expiration date TWIC".
---
Contact Info for BeneSys Administrators The trust fund for Inside Agreement benefits.
---
From ABC News:
In Bozeman, Montana, Anders Lewendal is hard at work building a home he hopes will be a blueprint for creating jobs in America.
Lewendal, an economist turned builder, is constructing a house made entirely from American-made products. Everything from the nails, screws and bolts, to the steel, staples and bathtub is made in the United States.
It is up to us, not government, to help create jobs here in America - watch this video and see if you can help next time you have to buy materials.
---
---
---
---
ELECTRICIAN STATE CERTIFICATION
Check the
DIR Web Site
for current status of electrician certification and
Deadlines
If you believe that the electrician should be reported as certified or registered and is not; please contact the Electrician Certification Unit at (510) 286-3900 and leave a message and someone will get back to you. More Information
Work as an "electrician trainee" by enrolling in one of the approved schools.

Enforcement: Any person who displays a certificate , or otherwise claims to be certified, who is not certified shall be prohibited from taking the test for certification for a period of five (5) years. NOTE Authority cited: Section 3099, Labor Code. References: Section 3099, Labor Code.

The above information is provided free of charge by the Department of Industrial Relations from its web site at www.dir.ca.gov.

---
---
Sign up for the Electronic Reciprocal Transfer System at Local Union 180
Electronic "ERTS" now required for members working out of the area

---

The Volunteers (click to enlarge):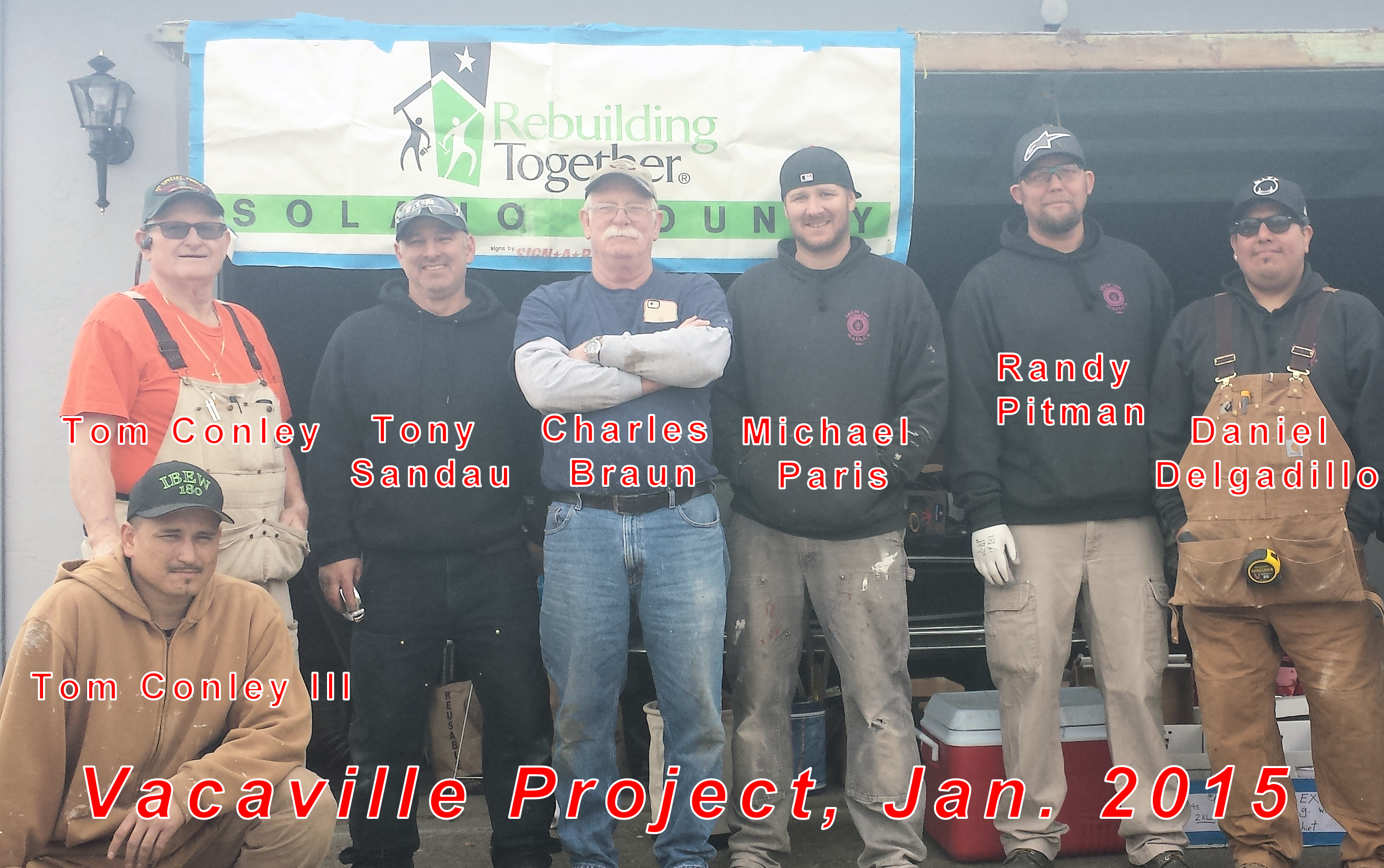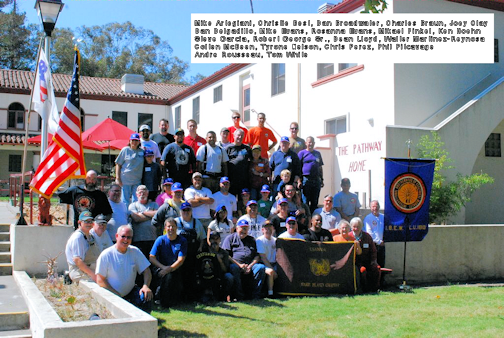 "The Pathway Home is a true healing community where we band together to embrace and assist the military personnel who have served our country in Iraq and Afghanistan. These men have survived the stress of war, but find themselves having difficulty transitioning to civilian life because of the debilitating effects of Post Traumatic Stress, Traumatic Brain Injury, or other post-combat mental health challenges." Read More.