Local Events

Open to all Members and Apprentices
Bring the Family!!!:
Local Union 180 Picnic
Save the date September 21, 2019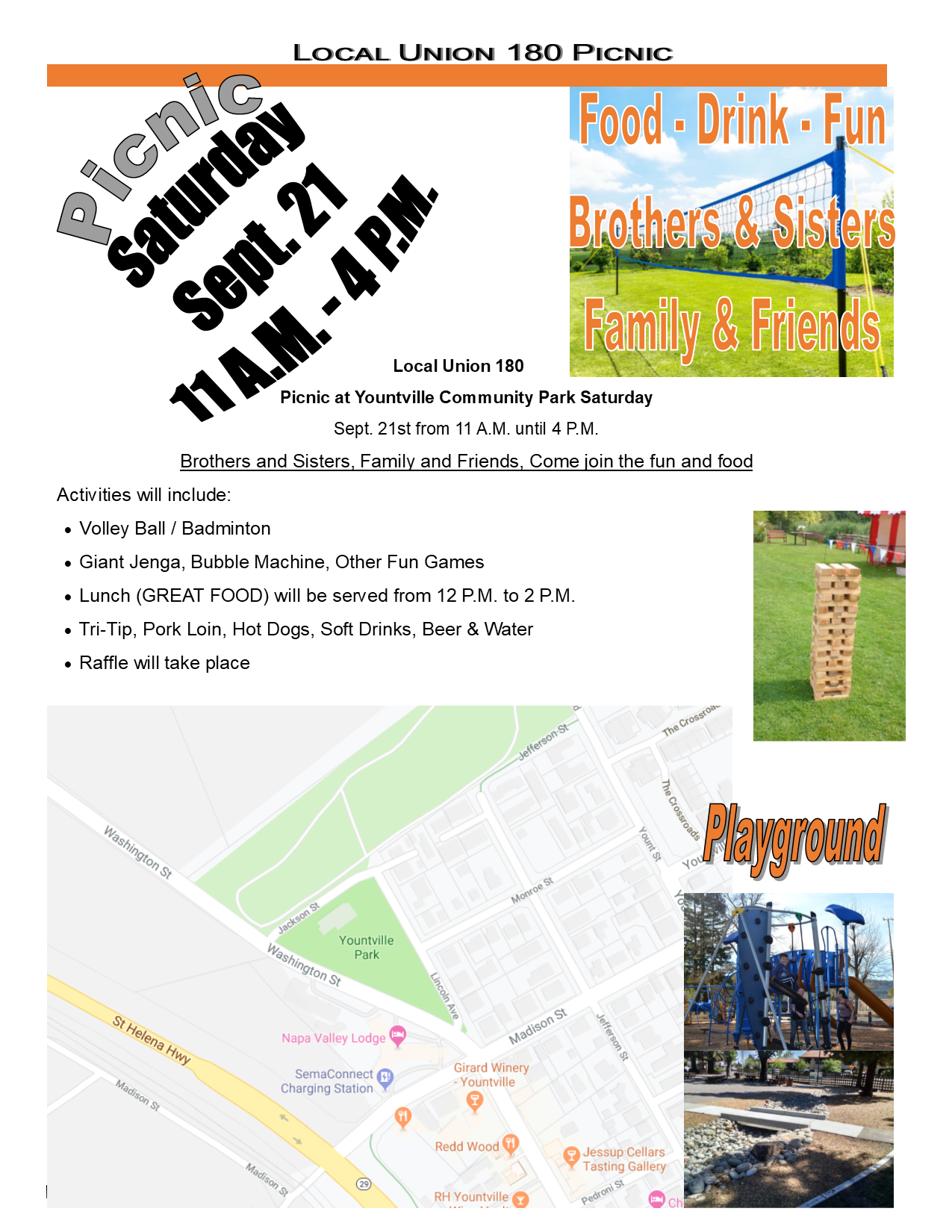 ---

This year has been a busy one for us already! We'd like to let you know what's been going on with the Wreath Project and some other news regarding an upcoming event especially for Veterans.
Successful new fundraising event: We were recently given an opportunity to hold a fundraising event at Park Winters and can't thank the owners, John Martin and Rafael Galiano, enough for generously allowing us the use of their venue for this first "Remember A Vet Evening at Park Winters". The dinner, prepared by Chef Scott Ostrander and his staff, was phenomenal--thank you to all! The auctions added to our event and the net for the evening was just under $30,000! We are off to a great start this year and wanted to thank all our sponsors, auction donors and attendees for their generosity and support.
Gold Sponsor: Park Winters
Silver Sponsors: The Lyman Group, The Tremont Group, John & Linda Frazier, Markley Cove Resort and Dick & Nancy Quinn
Friends of the Wreath Project: Creekside Builders, First Northern Bank, Rick Martindale, Schetter Electric, Inc., Smaystrla General Contractor, and Jean Cox (in memory of Col. William H. Cox)
**Save the date for next year's "Remember A Vet Evening at Park Winters", Saturday, February 25th.
Veteran's Fishing Event At Markley Cove (Lake Berryessa): We are attaching a flier with information about this fourth annual event being held at Markley Cove on Saturday, April 23rd. This is a free event for all Veterans, retired or active, and you don't even need a fishing license! You may come to fish, take a ride on Lake Berryessa with one of the volunteer boaters or just to visit and enjoy the BBQ lunch. For more information, email Robbie@markleycoveresort.com or call 707.966.2134. The deadline to sign up for the fishing day is April 10th. Please help to share this information too!
Country in the Hills Fundraiser: The 8th Annual Country in the Hills Fundraiser is scheduled for Saturday, September 3rd, at the Yin Ranch in Vacaville. Joe Gates will again be the auctioneer for our event, the Smaystrla family will be cookin' up a storm and there will be lots of silent and live auction items. Melanie is starting to collect items for the auction soon and if you have something to donate, please call her at 707.249.5853 or email mstocking24@gmail.com--we'd appreciate your help!
Reminder: We do accept donations year-round; checks may be sent to:
RememberAVet.net, PO Box 773, Winters, CA 95694
For your convenience, you may donate on-line at: gofundme.com/2016WreathProject (a small handling fee will be deducted from on-line donations)
As always, we only ask that you share our emails with family, friends and co-workers--that's what keeps this project going!
Thank you!!
Curtis & Susie Stocking
707.761.3343 or 707.249.5852
Facebook: Wreath Project (Sacramento Valley National Cemetery)
"Never doubt that a small group of thoughtful, committed citizens can change the world; indeed, it's the only thing that ever has."
~ Margaret Mead
---
| | | |
| --- | --- | --- |
| | "Old Timers' Night" | |
---
Past Events
Yountville Veterans Home
Provided by the The Rough Riders M/C
2014 Wreath-laying Event, Saturday, December 13th starting at 9:00 AM rain or shine – arrive early!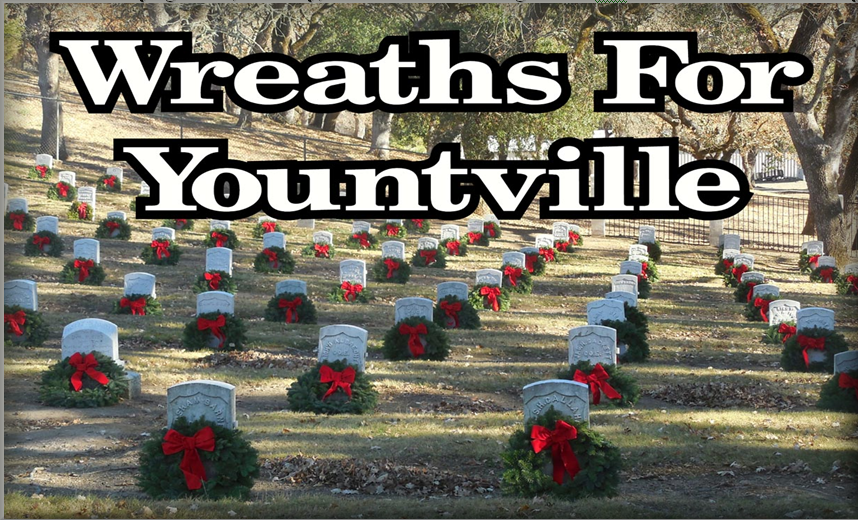 We became involved in the wreath project for the Yountville Veterans Home, after one of our members attended the 2008 wreath laying ceremony. There were only 13 wreaths placed that year. Our goal every year is to adorn even more of the cemetery's 5700+ headstones with its own wreath, with the hope of someday covering them all. We need your help again this holiday season. Please join us, our community, and local businesses in showing your respect and remembrance for our veterans and their families by donating to this special cause.
The Veterans Home of California -Yountville, was opened in 1884 on 910 acres. Now situated on 550+ acres, their cemetery has many unique distinctions. Among them are:
Run for nearly 30 years by one of the most decorated soldiers of WWI - Col. Nelson Holderman
The " Unknown Soldier" is a Veteran of the Civil War
Has the Largest group of Spanish American War Veterans in the Nation
Has never been racially segregated (as many cemeteries were dating back this far)
The current location is the 3rd site for the cemetery
Was originally owned and operated by a non-profit corporation, selling the home to the State in 1896
Checks may be made payable to:
Rough Riders M/C (Please put "Yountville Wreaths" in the memo section)
And mailed to (postmark by 11/14/2014):
Rough Riders M/C
420 N Jackson, Suite C
Dixon, CA 95620
OR payments may be made online:
Paypal @ wreathsforyountville@aol.com
Or
Fundraise.com
If link above does not work you can copy or paste address below into your browser.
https://www.fundraise.com/rough-riders-motorcycle-club-incorporated/wreaths-for-yountville
The Rough Riders M/C (www.rough-riders-mc.com) is a designated Public Charity under Internal Revenue code 509(a)(2) by the IRS and donations are Tax Exempt under section 501(c)(3). Please use your canceled check as your receipt, or a donation letter/receipt can be provided upon request.
Questions can be directed to:
Wayne Soltys, President, Rough Riders M/C, Gateway Chapter, soltydog@sbcglobal.net
(707) 718-2532
Joshua Kiser, Yountville Veterans Home, Volunteer Coordinator, Joshua.Kiser@calvet.ca.gov
(707)944-4930
Colleen Fay, Wreaths across America, Location Leader, colleenfay@hotmail.com
Thank you for your support of this great and powerful community project. Help us spread the word by printing this letter and sharing it with friends, family and co-workers, and by forwarding this email to EVERYONE in your address book.
Sincerely,
Rough Riders M/C
GATEWAY Chapter
Sacramento Valley National Cemetery
Provided by Curtis & Susie Stocking
Hi All--
It's time for our annual push for donations for this year's annual Wreath Project at the Sacramento Valley National Cemetery! Please share our emails with friends, family and co-workers....it's what keeps this project going! Each wreath costs $8; whatever you can give is appreciated. Donations are accepted year-round for this annual event and this year we need about 15,500 wreaths to remember each of the fallen at rest there--quite a task. With your help and support, we can reach our goal again this year! Donations can be sent to:
RememberAVet.net
PO Box 773
Winters, CA 95694
3rd Annual Bike (and Car) Run
Please join us Sunday, November 9th, for the third annual Remember, Respect and Honor Bike (and Car) Run! Great event--fun day to get together with family and friends, supporting our Wreath Project! Currently, anticipated stops will be the same places as last year--Kenny's in Woodland, Road Trip in Esparto and Judy's Wild Wrangler Saloon in Vacaville. (This ride is not affiliated with any motorcycle club). Coffee and doughnuts will be served at registration starting at 8 AM, with the ride starting at 9 AM from the Buckhorn Bar & Grill in Dixon, followed by a tri-tip lunch back at the Buckhorn! A huge thanks to the Garton and Meloy families, Segovia's Detail Shop and the Buckhorn Bar & Grill for hosting this event. See you there! (A flier is attached with all the details; please post it if you have the opportunity!)
Wreath delivery/unloading trucks
We will need volunteers to help unload the trucks Friday, December 12th, starting at 3:30 PM. We will likely have four trucks to unload and will only have about two hours of daylight to do this. We are asking for adult volunteers as the wreaths are boxed and too bulky for young children to handle. This would be great for local service clubs or high school students looking for community service hours. Please call 707.249.5852 if you are able to help or have an organization interested in helping with this.
2014 Wreath-laying Event
The public wreath-laying event will take place starting at 9 AM on Saturday, December 13th. (Plan to arrive early for traffic, parking and walking to ceremony site). There will be a one-hour program followed by all in attendance placing the wreaths. As in the past, we will have wreaths available for pick up one week prior to this, for those who prefer a more private remembrance time. (If you do this, your wreaths must be placed by Friday, Dec. 12th). Those wreaths can be picked up at a new location this year:
Green Fields Real Estate of California
831 Alamo Drive, Suite 6C
Vacaville, CA 95688
As always, thank you all for your support, helping to spread the word and for your generous donations! This is truly a special event and has become a family tradition for us and, we hope, many of you!
Curtis & Susie Stocking
707.761.3343 or 707.249.5852
Facebook: Wreath Project (Sacramento Valley National Cemetery)
"Never doubt that a small group of thoughtful, committed citizens can change the world; indeed, it's the only thing that ever has."
~ Margaret Mead
The Volunteers (click to enlarge):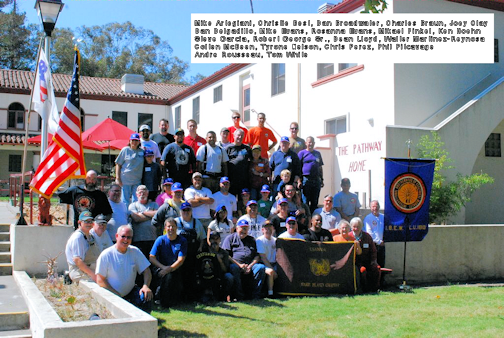 "The Pathway Home is a true healing community where we band together to embrace and assist the military personnel who have served our country in Iraq and Afghanistan. These men have survived the stress of war, but find themselves having difficulty transitioning to civilian life because of the debilitating effects of Post Traumatic Stress, Traumatic Brain Injury, or other post-combat mental health challenges." Read More.
The Story in The Grapevine: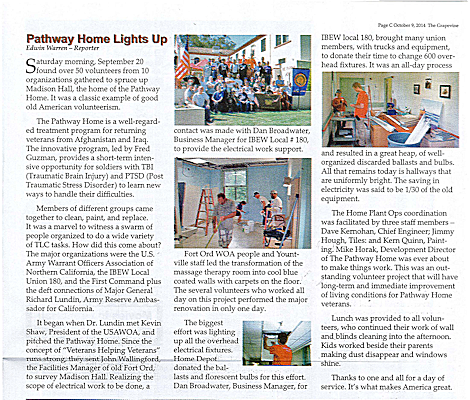 We support

Rebuilding Together fills a pressing need in our communities. The rising cost of living and falling social service budgets have left some of our most vulnerable neighbors without the most basic of necessities, a warm, safe, and dry home.
The nation is facing enormous problems, many of which have reached crisis levels. The low-income homeowners that Rebuilding Together serves are disproportionately affected by these issues. Homeownership is at an all time high, especially among low to mid-income Americans, but the costs of owning and maintaining a home are growing exponentially. Healthcare costs are skyrocketing, leaving low-income citizens with less and less disposable income for home repairs and modifications.
Rebuilding Together focuses on the issues of homeownership, the elderly, the disabled, families with children, healthcare, and the rising federal deficit. By identifying the challenges associated with these issues we are well placed to face a problem with full understanding and to create real, sustainable solutions for the low-income homeowners we serve.
Join Neighbors helping Neighbors in need to live in Warmth, Safety and Independence. = Download A Volunteer Form and Join Us! -
Visit their website for activities!
Thanks to

For helping out in Vallejo from the start!
Also, RTSC needs your help to help the Vallejo veterans complete some exterior work on their building. – Download a Calendar -
Military Homeowner Workdays with Home Depot Associates. - Download a Flyer
---

Vallejo Home 11/2013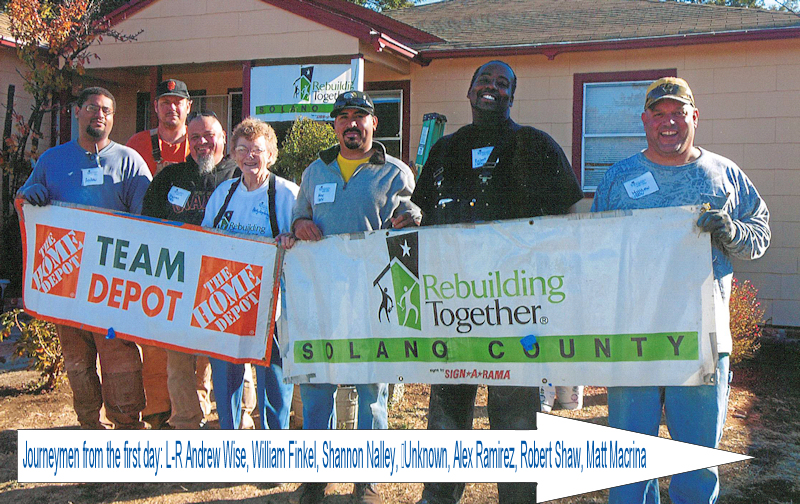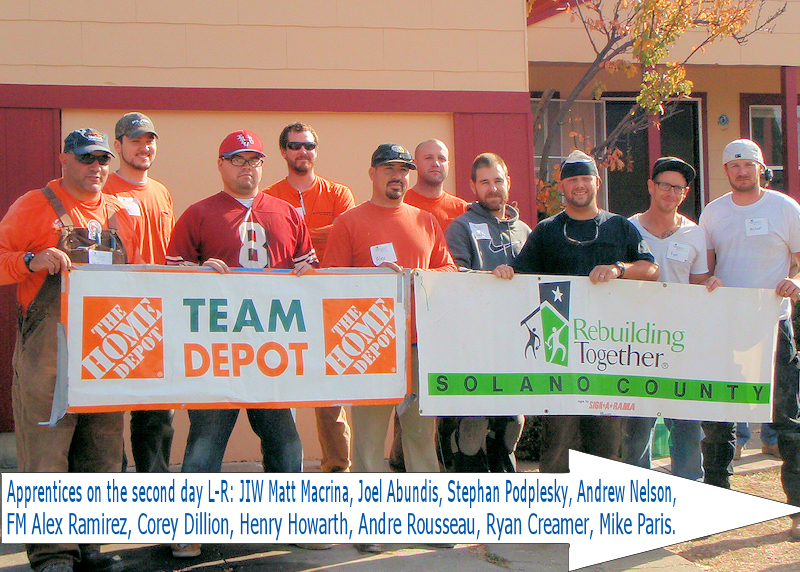 ---
Fairfield, California —The City of Fairfield's fourth annual Senior Home Assistance Repair Event (SHARE) was held on National Good Neighbor Day, September 28, 2013. This event is in partnership with the Electrical IBEW Local 180, Plumbers UA Local 343 and Carpenters Local 180 Unions to provide minor home repairs to approximately 12 low-income elderly and disabled homeowners. The Local thanks the following members for lending a hand: Charles Braun, John Bogart, Tom Conley, Dan Delgadillo, Corey Dillon, Dale Johnson, Jarrod Jones, Dean Lloyd, Ben Prowell, Dan Strickland.
---

& LOCAL UNION 180
Working Together for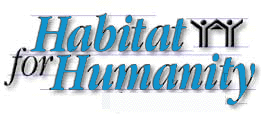 2001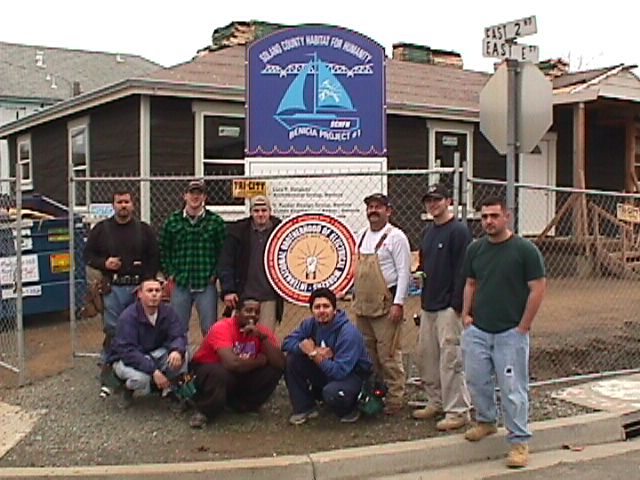 Top Left: Brian Weber, Cody A'Hearn, Don Lorenz, Rich Mattson, Robert Stake, Pete Barchard
Bottom Left: Matt Jones, Robert Shaw, Nelson Rojas

2005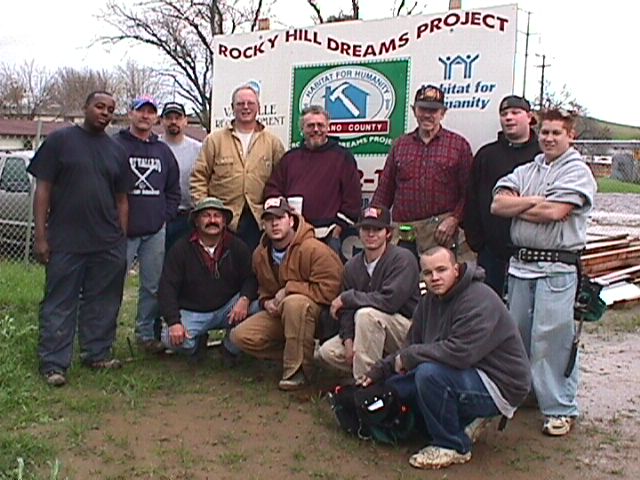 Top row L-R; Rob Shaw, Lee Bowen, Sam Haines, Dan Broadwater,
Rick Row, Gene Watson, Rich Manny, Dennis Haley
Bottom row L-R; Rich Mattson, Jason Carrier, Nick Baker, James Jewet.
---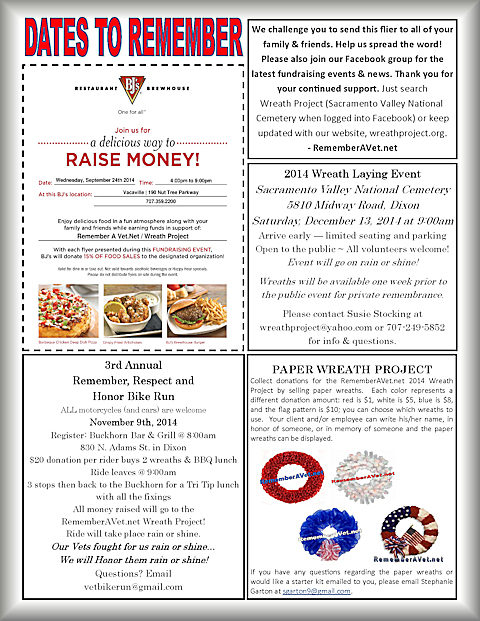 Greetings!
It seems we had a typo on our first flier (thanks, Laura, for catching that!) The goal amount for this year's project is actually 12,500 wreaths, so we've fixed our flier! Please print and post, if you have a public place to display it.
For more information about the Wreath Project and fundraising for the annual wreath-laying event, check out our website at www.wreathproject.org or join the Facebook page: Wreath Project (Sacramento Valley National Cemetery).
We would also like to tell you about the 2nd Annual Remember, Respect and Honor Bike Run being held on Sunday, November 10th, starting at 8 AM, from the Buckhorn Bar and Grill in Dixon. This ride will start and end at the Buckhorn with several stops in the area, rain or shine. (For those of you without motorcycles, you can 'ride' in your car!) All proceeds from this ride will benefit RememberAVet.net and go towards the Wreath Project at the Sacramento Valley National Cemetery. A great way to celebrate Veteran's Day and meet new people, while helping to spread the word about this wonderful event. That flier is also attached, so please share that information too!
Thanks again for all your support of this worthwhile community project.
If you would like to donate by sending a check, please make that payable to RememberAVet.net and mail to: PO Box 773, Winters, CA 95694. Checks are accepted year-round.
Thank you again for your continued support of this terrific community project....and spread the word! We've attached a poster that you can forward on to others with project/fundraising information too!
Curtis & Susie Stocking
707.761.3343 or 707.249.5852
Facebook: Wreath Project (Sacramento Valley National Cemetery)
"Never doubt that a small group of thoughtful, committed citizens can change the world; indeed, it's the only thing that ever has."
~ Margaret Mead

Sacramento Valley VA National Cemetery - Dixon, CA