D/B & D/C Change
October 2, 2012
The Trustees have voted to change the method benefit monies are allocated to the prospective pension funds. Currently it is like funds to like funds. Some local unions in the bay area are defined contribution only. If you work any duration you could be harmed by missing out on a defined pension credit. Starting November 1, 2012, defined contribution money coming back will be placed into the defined benefit bucket until a credit is achieved. At that point, all other monies will go into your defined contribution fund.
The Trust Fund office mailed information to each plan participant of the Inside defined benefit (D/B) and defined contribution (D/C) plans detailing the change. The informational mailing also included examples of how this change takes effect. However, some might find it confusing so here are visual examples
Previous System was "like funds to like funds"

New System is "D/B funds first"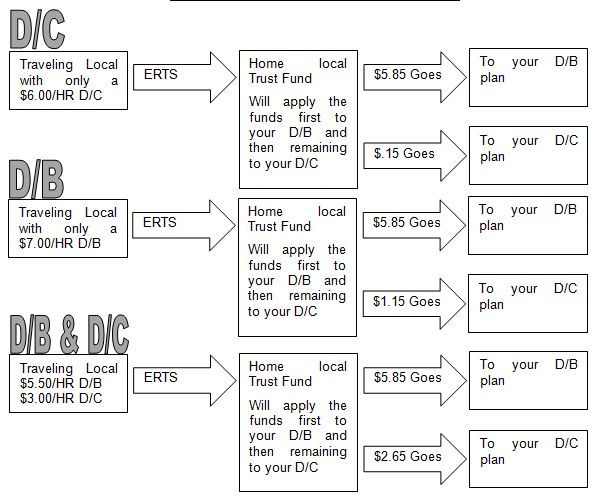 More information on your benefits, Inside, Residential and Sound & Communications can be found on the Trust Fund Benefits website is here.
Napa Solano Electrical Workers Trust Fund – BeneSys – For the Inside Agreement
http://www.ibew180benefitfunds.org/
9th District Sound & Comm. Trust Fund – UAS – For S&C and Residential Agreements
http://soundcommbenefits.com/index.html
Download this as a PDF.